Pellets
Pellets are the highest quality green fuel from biomass available in Europe, with low emission of CO2, renewable energy resource and low content of ash. 1 kg pellets equals 3 kgs of timber.
The pellets we sell are certified by Din-Plus and are EN-Plus A1 quality and they will always be FSC or PEFC certified.
The pellets are produced on modern production lines under the constant supervision and each batch is lab tested.
Packed in 15 kgs bags and shrink wrapped on pallets to protect the pellets against moisture.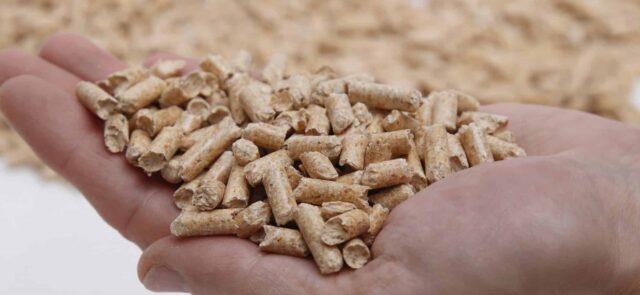 Wood Briquettes
Briquettes are 100% natural fuel, economic, high energetic with low emission of CO2, burns to the end and leaves no unburned pieces. They are made from mechanically pressed plant sawdust from deciduous plants without any chemicals added. Humidity is less than 10%.
The briquettes are brick-shaped and produced on modern RUF production lines meeting all European DIN norms.
Packed in 10 kgs plastic wrapped packages and shrink wrapped on pallets to protect the briquettes against moisture.